Let's get back to nature!
.
Kanchanaburi is another favoured spot for tourists in Thailand as it's not located too far from Bangkok and is easily accessible. It's also home to a whole host of diverse attractions, including many spots of outstanding natural beauty, riverside and mountain top accommodation and thrilling water parks.
.
For this trip, we'll be taking you deep into Kanchanaburi during the 'Green Season' or rainy season, a time of year when travellers traditionally prefer to stay at home for fear of their vacation being rained out, but also when the Thai countryside is at its most verdant and beautiful and its climate the most refreshing. You'll even get the chance to see some fog and mist on your travels. This itinerary makes for a short, convenient trip with the chance to wake up surrounded by nature and get some of that much-needed fresh air that's absent in city life.
Itinerary 
Day 1 
Chaloem Rattanakosin National Park
Patongo Camping. Lam Tapoeng Reservoir, Nong Prue district, Kamchanaburi 
Day 2
Erawan National Park, Tha Kradan, Si Sawat District, Kanchanaburi

BARME Tea&Taste, Nhong Ya. Mueang, Kanchanaburi

Tel. No. : 092-493-5091

Opening hours : 09.00 -19.00 hrs. 
For more information please contact : TOURISM AUTHORITY OF THAILAND, KANCHANABURI OFFICE
Location : 14 Saengchuto Road , Tambon Bannua, Amphoe Mueang, Kanchanaburi 71000
Tel : +66 3451 1200, +66 3451 2500
Email : tatkan@tat.or.th 
Website : http://www.tourismthailand.org/kanchanaburi 
If you are thinking of visiting Kanchanaburi, don't forget to check out these spots;  we guarantee you'll have a trip to remember.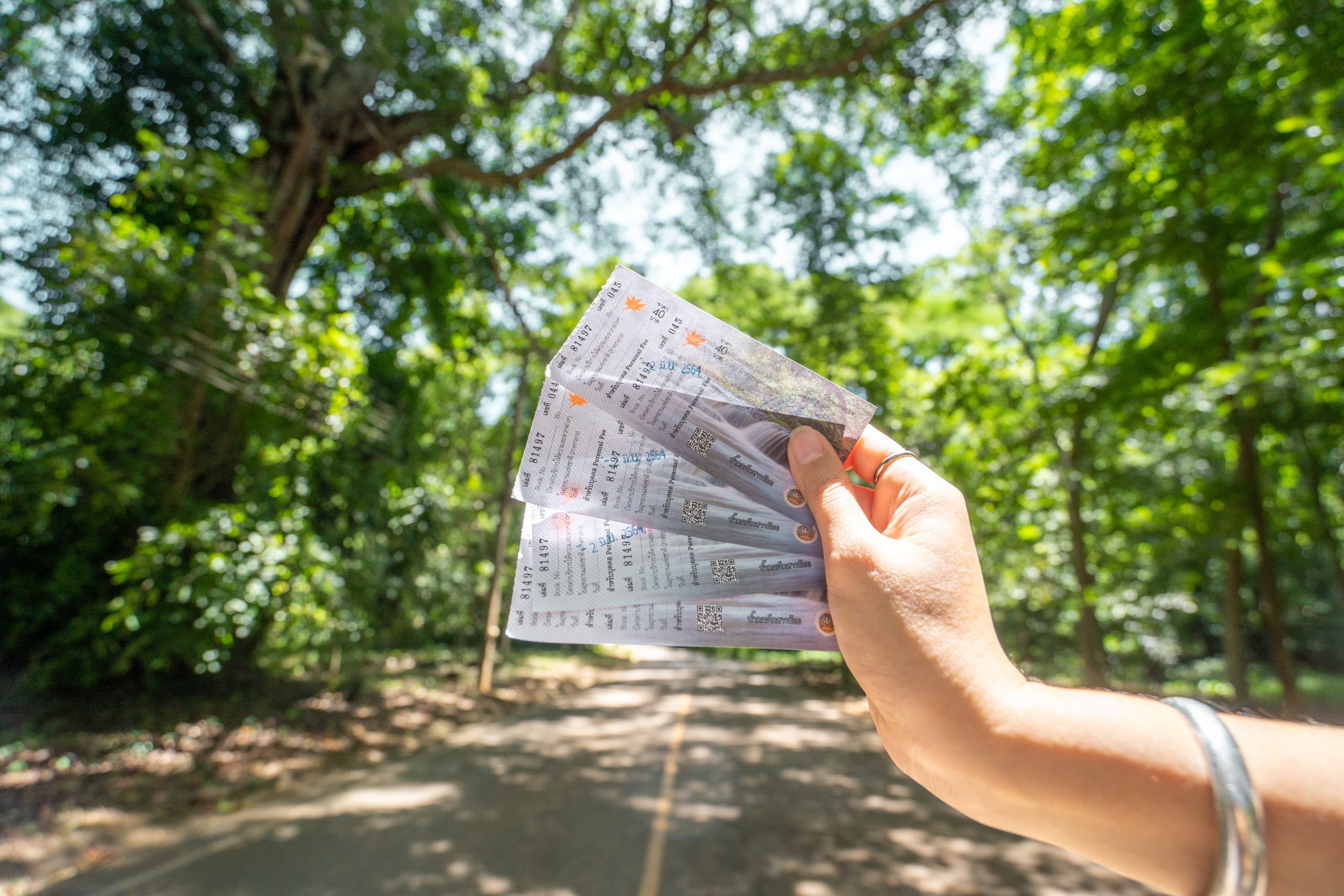 Our trip begins by delving into nature  at Chaloem Rattanakosin National Park, or 'Tham Than Lot' as it's known by the locals. 
There's a 40 baht entrance fee per person and a 30 baht vehicle charge.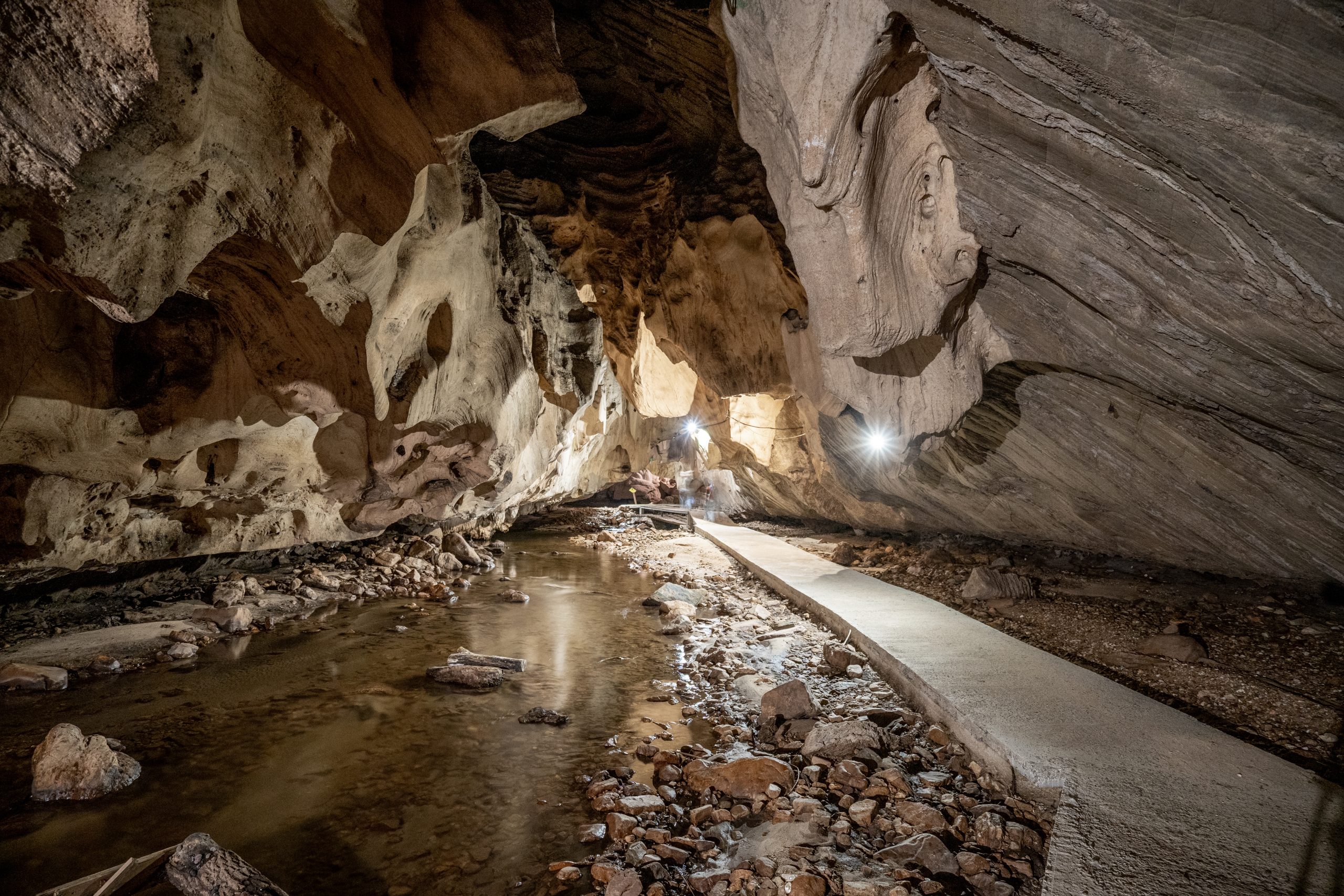 The park features five main points of interest – 
Than Lot Noi Cave
Than Lot Yai Cave 
Nature Trail 
Tri Trong Waterfall 
Than Ngoen Waterfall 
Than Tong Waterfall 
.These caves are vast, impressive and well lit to make venturing inside easy and fun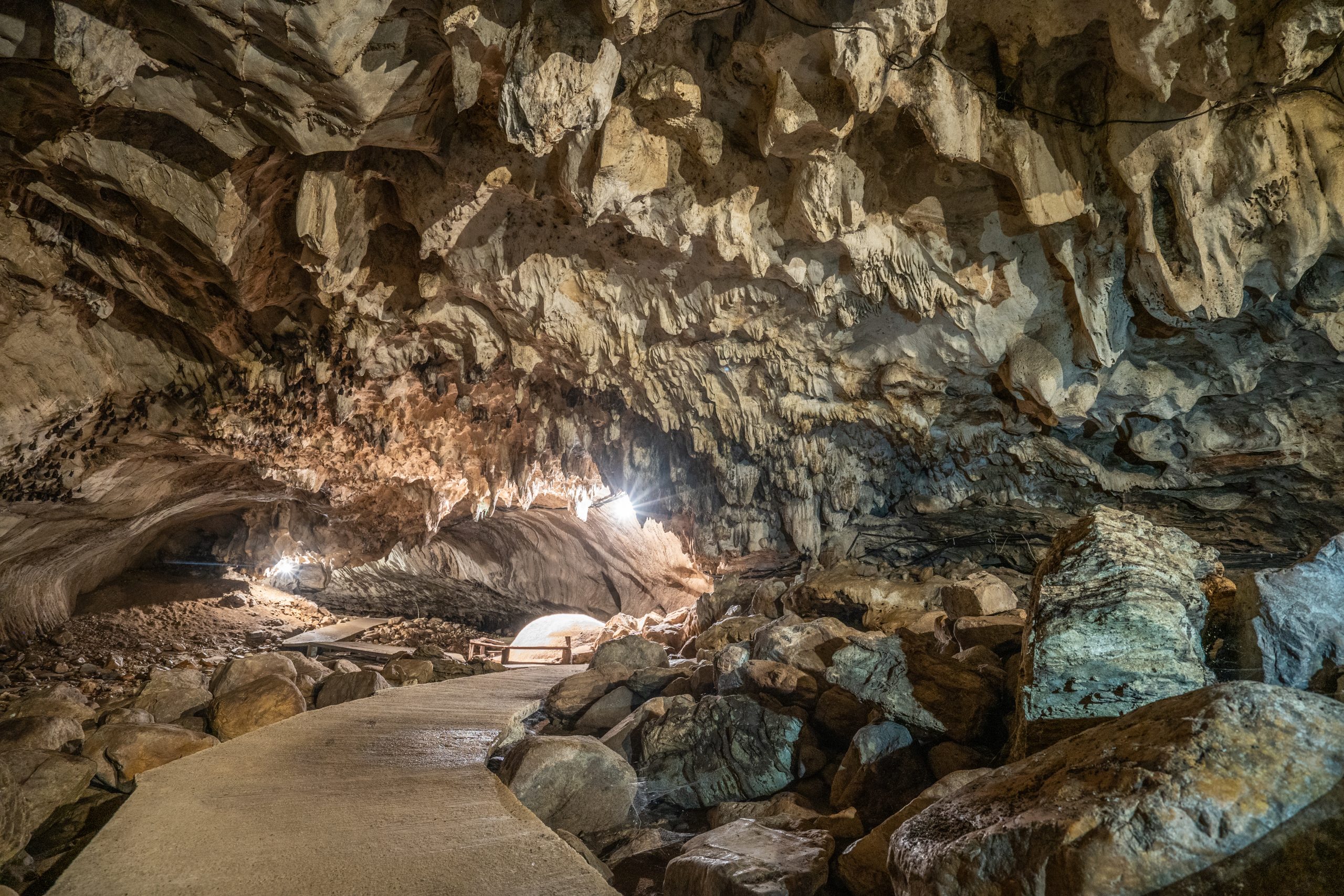 Inside the caves are filled with alien-looking stalagmites and stalactites which sparkle when they catch the light.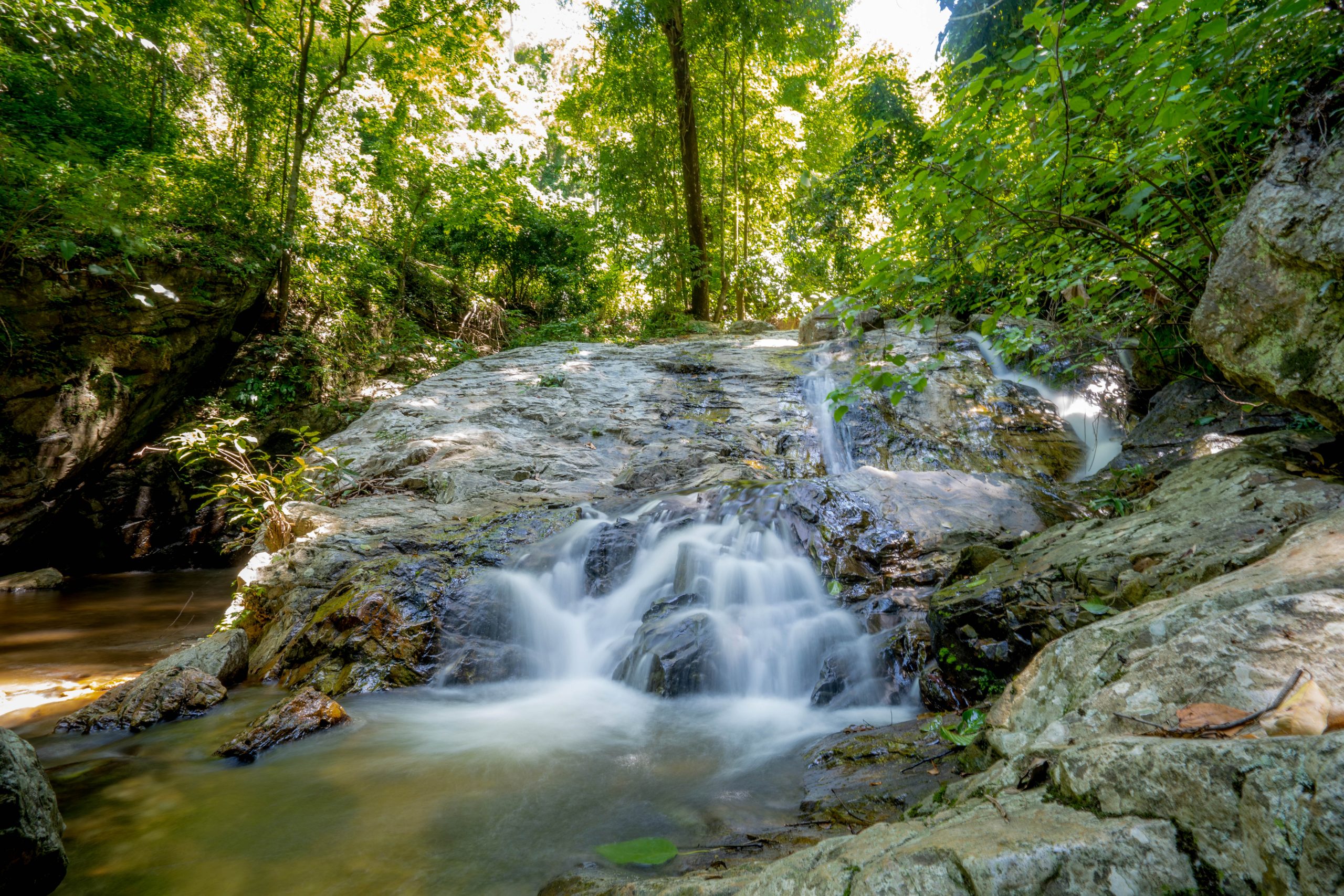 The nature trail is surrounded on both sides by lush forest and a running stream.  
.Nature lovers will really be in their element here.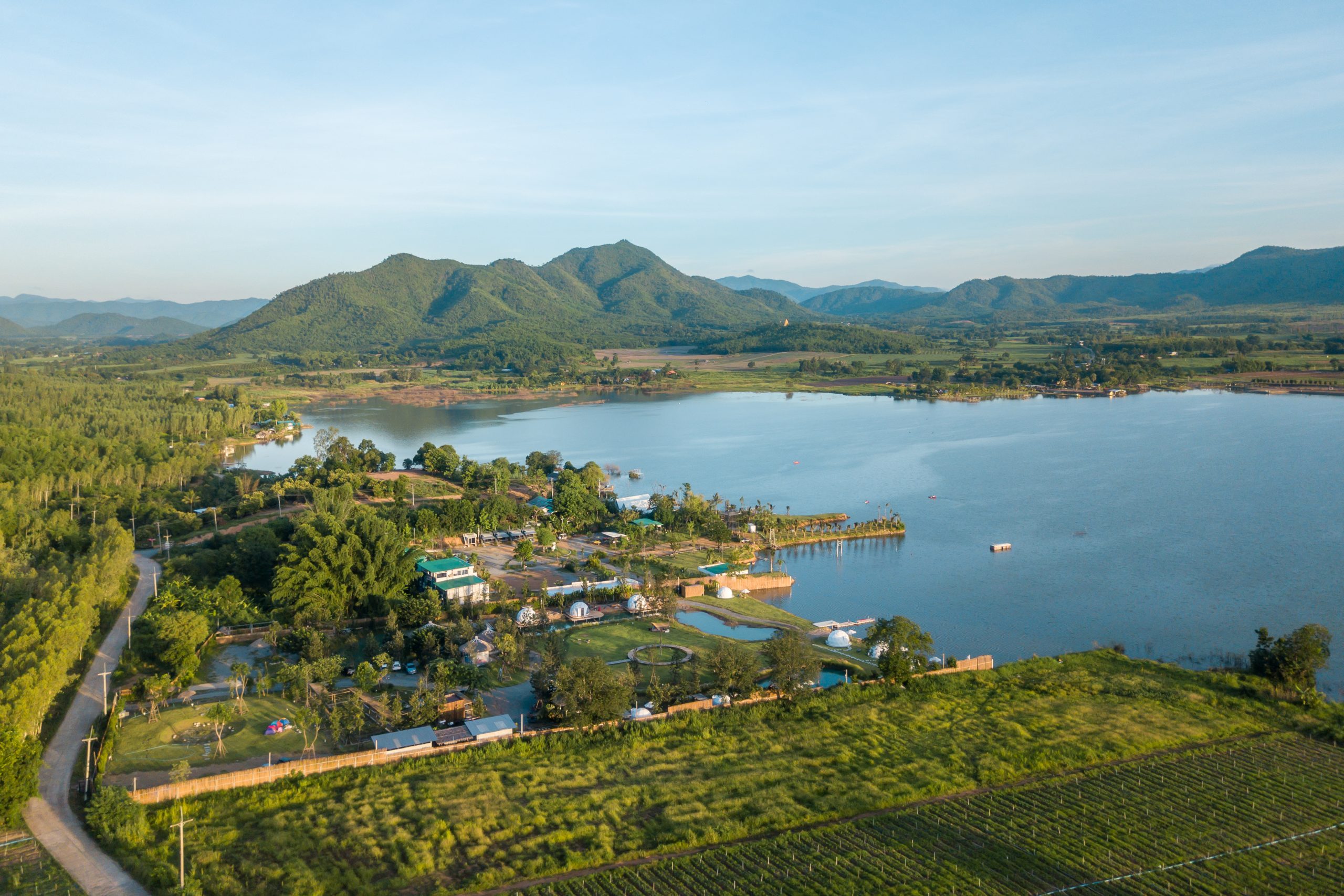 Once you've explored the national park it's about time to move on to your accommodation. Pla Tong Ko, is a resort and campsite located next to the Lam Taphoen reservoir and campsite surrounded by greenery fields and mountains.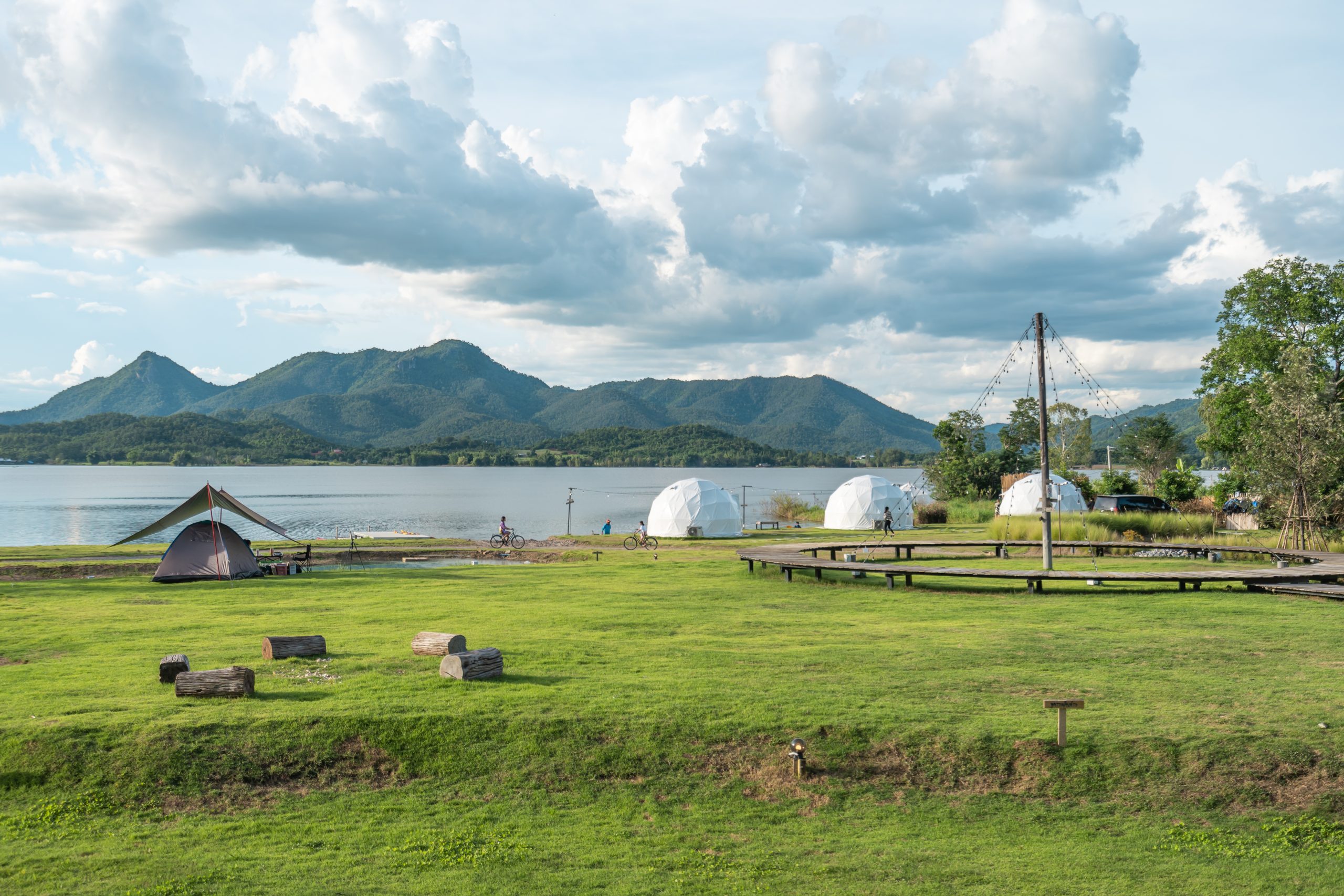 You can choose two types of air-conditioned tents.
Lake view – without bathroom (guests must used a shared bathroom)
Field view – with bathroom
Both with shower cream, shampoo and other required toiletries.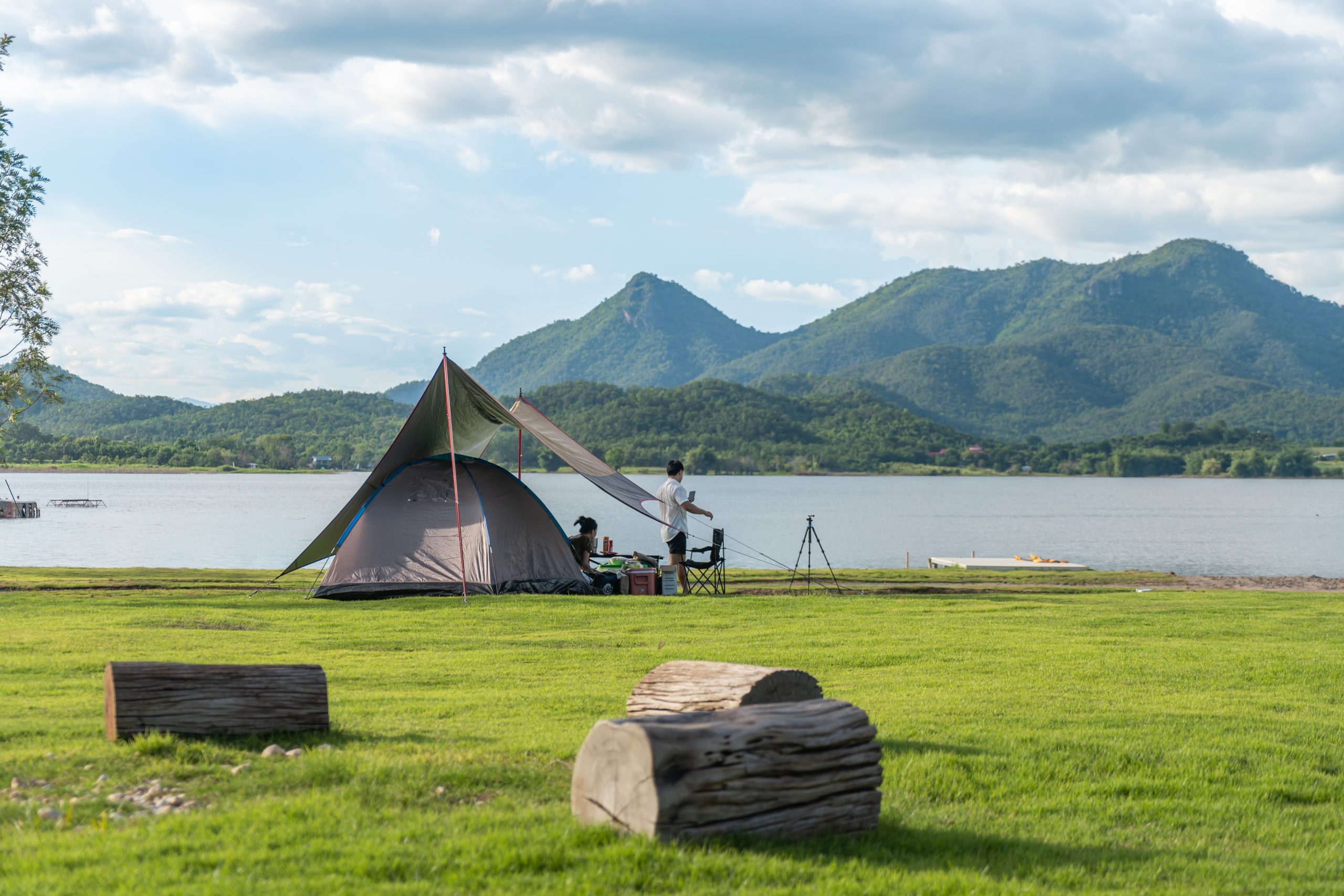 For those wishing to bring their own tents, there's ample camping space with 8 spacious pitches. Please contact the resort beforehand if you plan on pitching your own tent.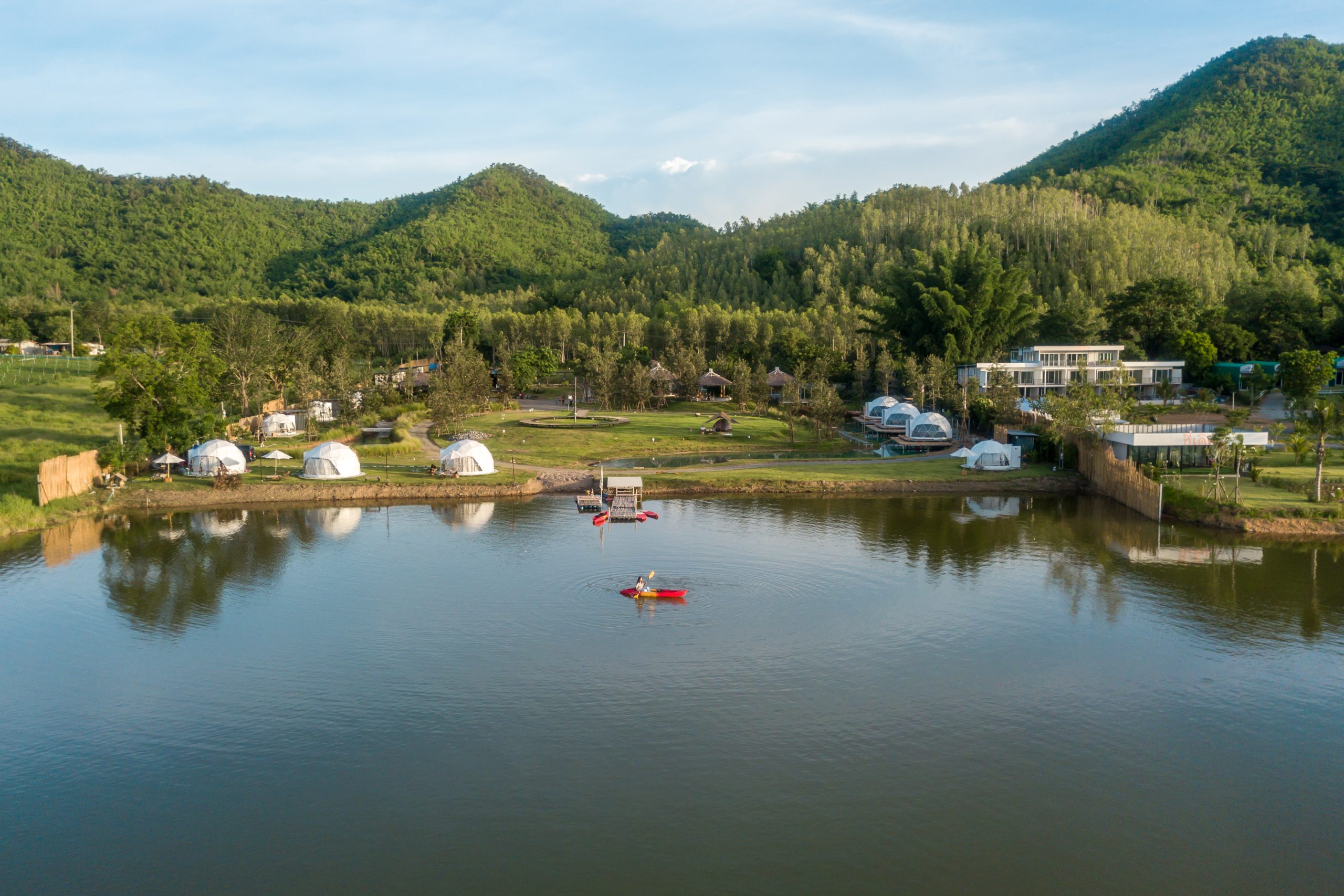 The resort offers a range of activities including kayaking, SUP boarding, rafting, ATV vehicles and cycling.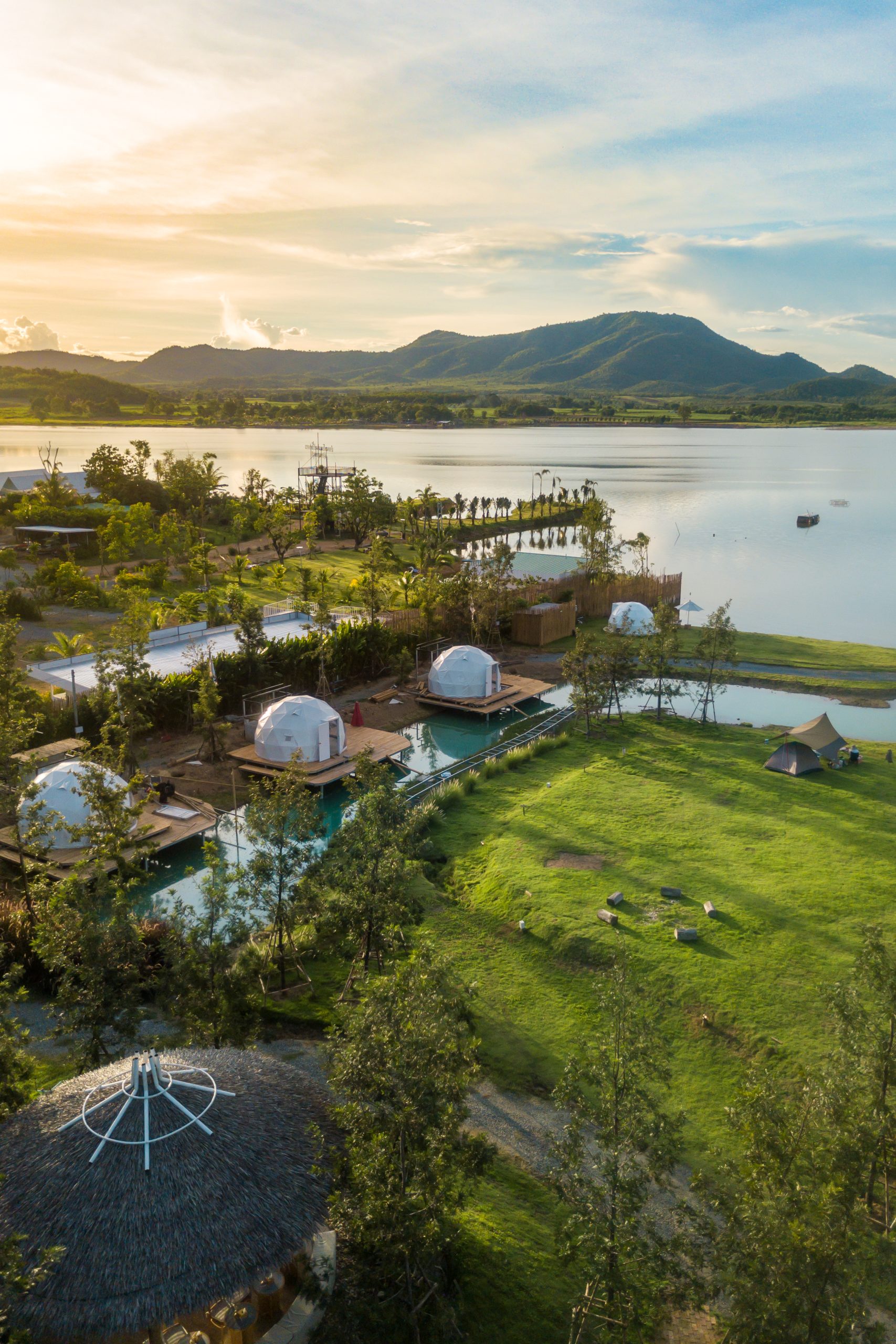 Camping here, you'll feel the unmistakably relaxing  atmosphere that only comes with  being close to nature.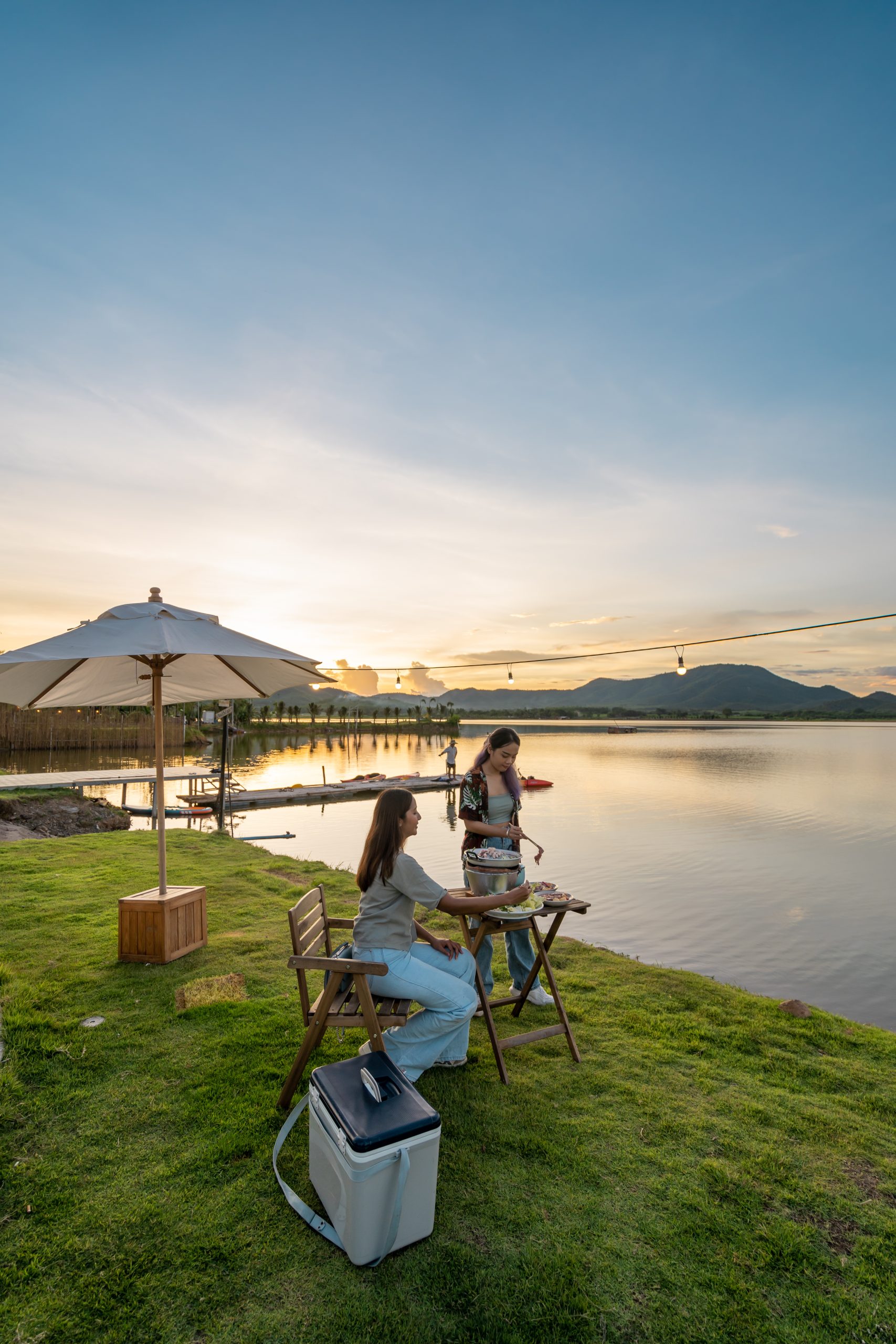 If you're hungry, there are bar-b-q sets available, which are enough for 1-2 people and will set you back just 350baht/set. Breakfast is included in the price of accommodation and guests have a choice of rice porridge or pan-fried eggs.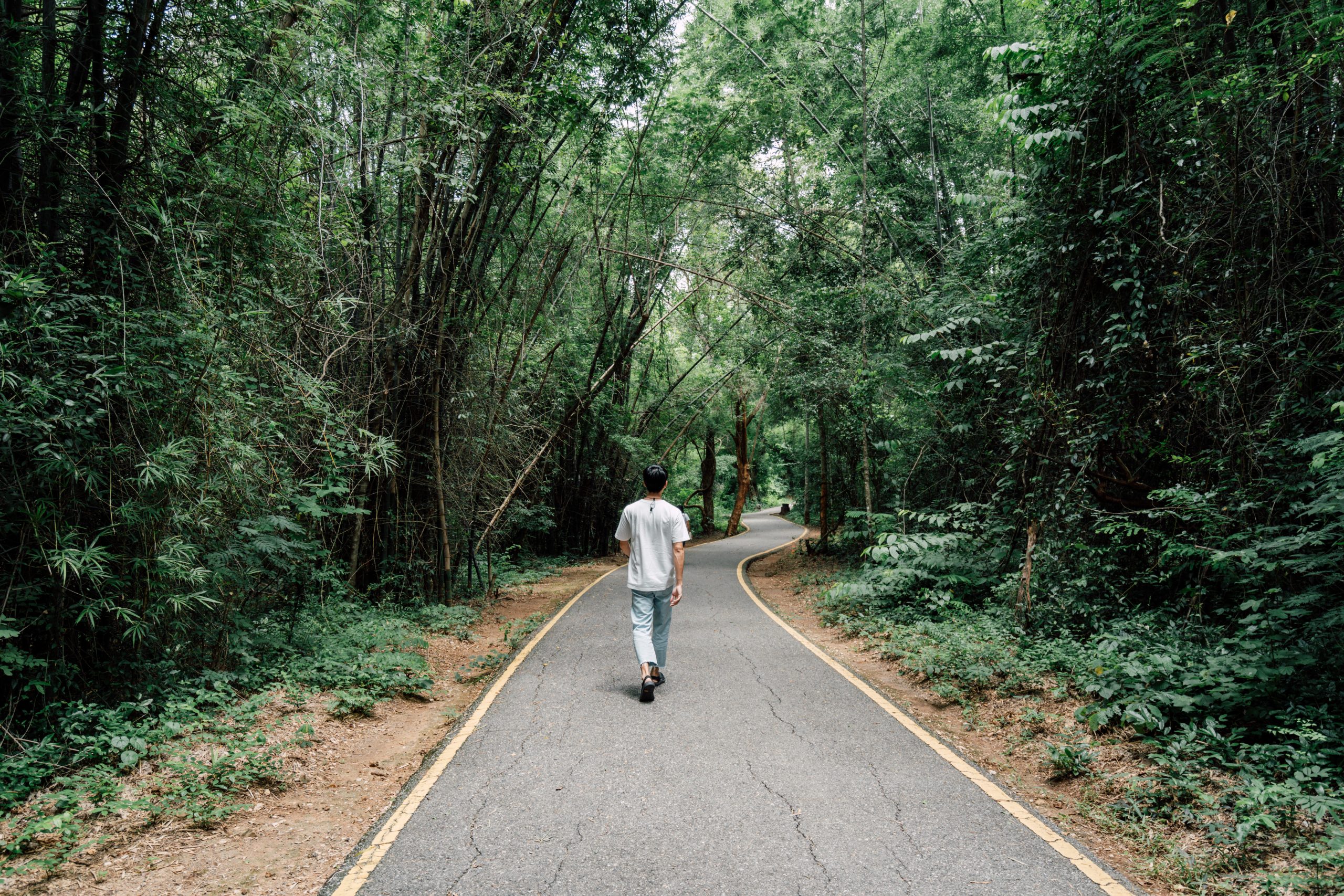 Day 2 starts with a trip to Erawan National 
Park, a 7 storey waterfall and the province's premier tourist draw.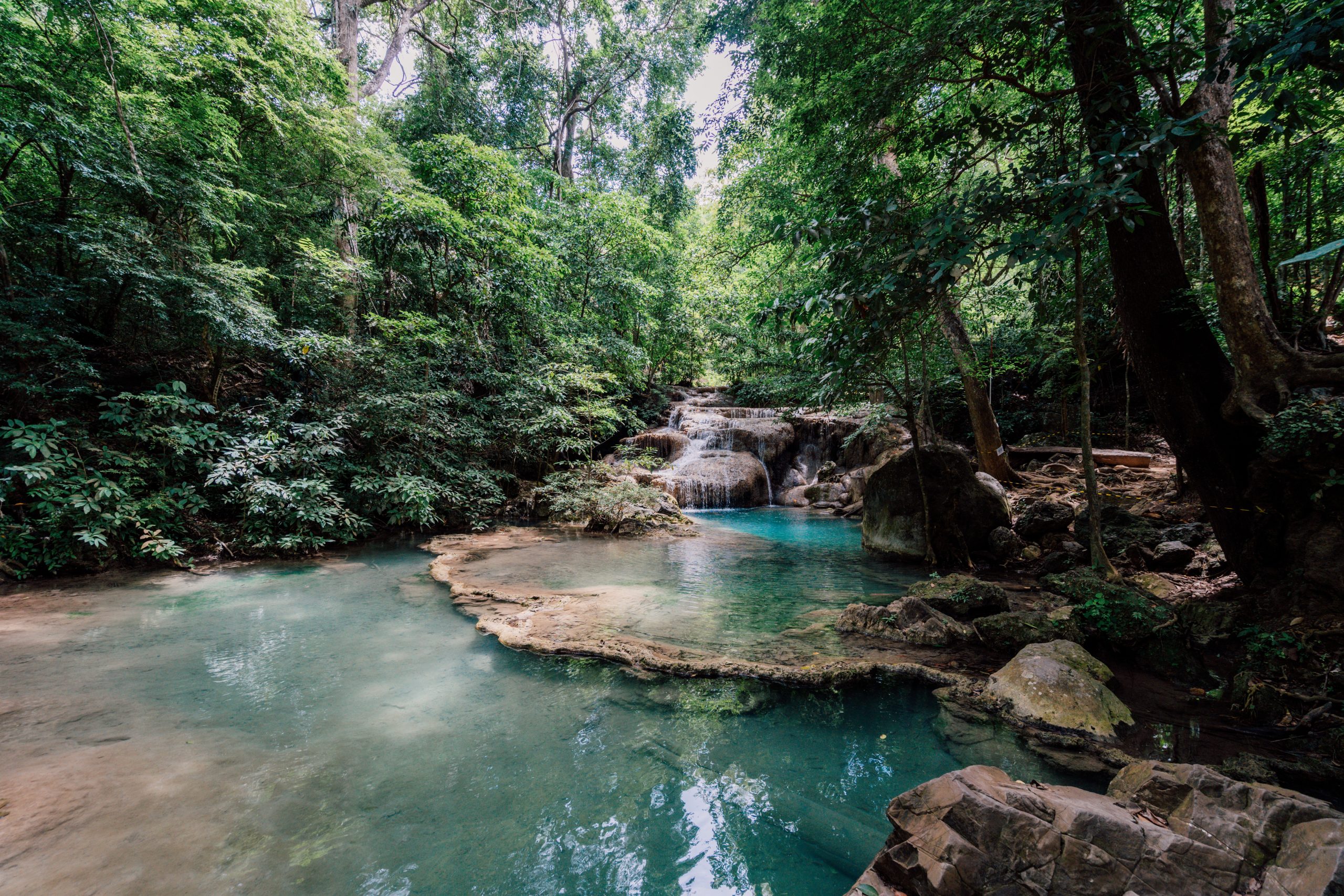 Each level or storey has its own name and you can see something different 
.
Lai Kuen Rang – A small waterfall suitable for picnicking 

Wang Matcha – A pool with clear water that's great for paddling and swimming. The water is full of fishes

 Pha Namtok – This part of the fall features a rapidly cascading stream of water and visitors can refresh themselves by standing in the pool below and letting the water splash over them.

Ok Pee Suea – This level is recommended for those looking for adventure and thrills as it features a fun water slide. 

Buea Mai Long – The higher you get, the more beautiful your surroundings and this level has to be seen to be believed. 

Kong Prueksa – For those who love exotic flora, this is the place to be as this level features an impressive selection of different plantlife. 

Phu Pha Erawan – The final level, but let's just say you will not be disappointed with the view from up here.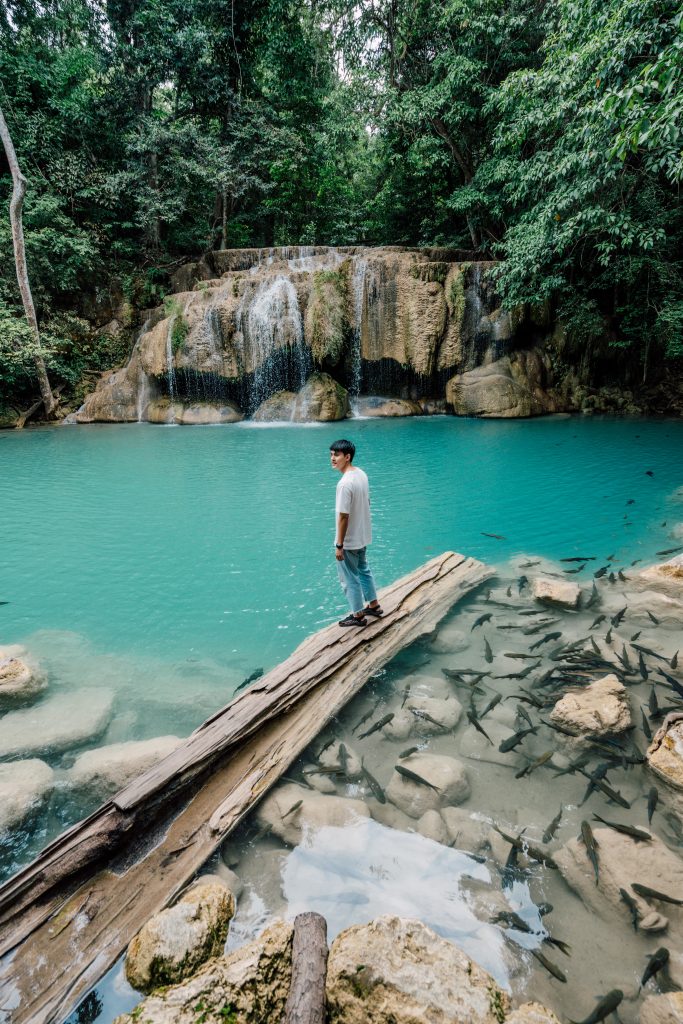 The park is open every day from 08.00 -16.00 hrs. 
.Entrance fees are as follows: 
Adults 100 baht

Children 50 baht

Foreign Nationals 300 baht

Vehicle charge 30 baht/vehicle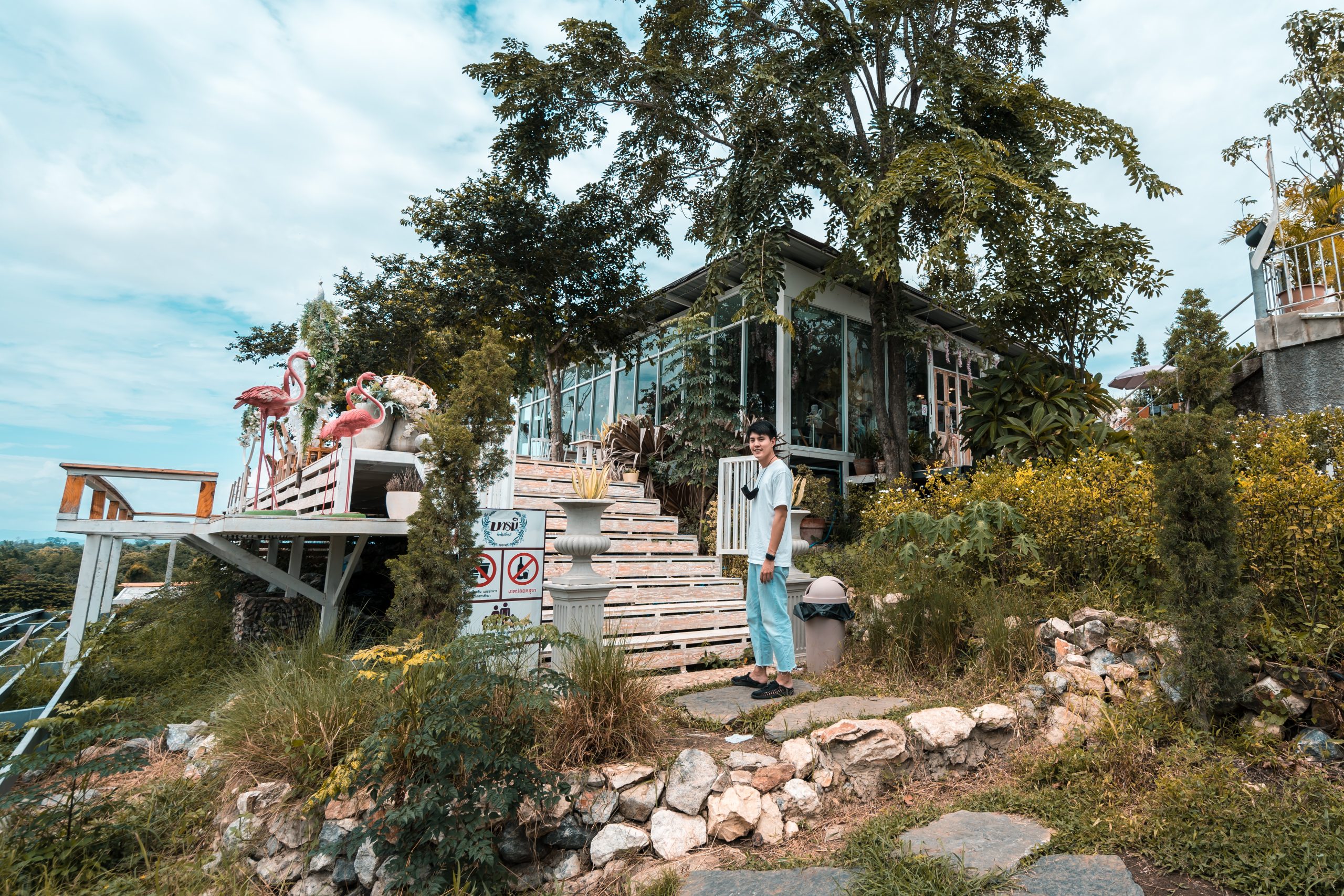 After a tiring climb to admire the waterfall, it's time to refresh yourselves at 'BARME Tea & Taste' , a café with a great atmosphere and a resplendent view down over the tracks of the Kanchanaburi railway.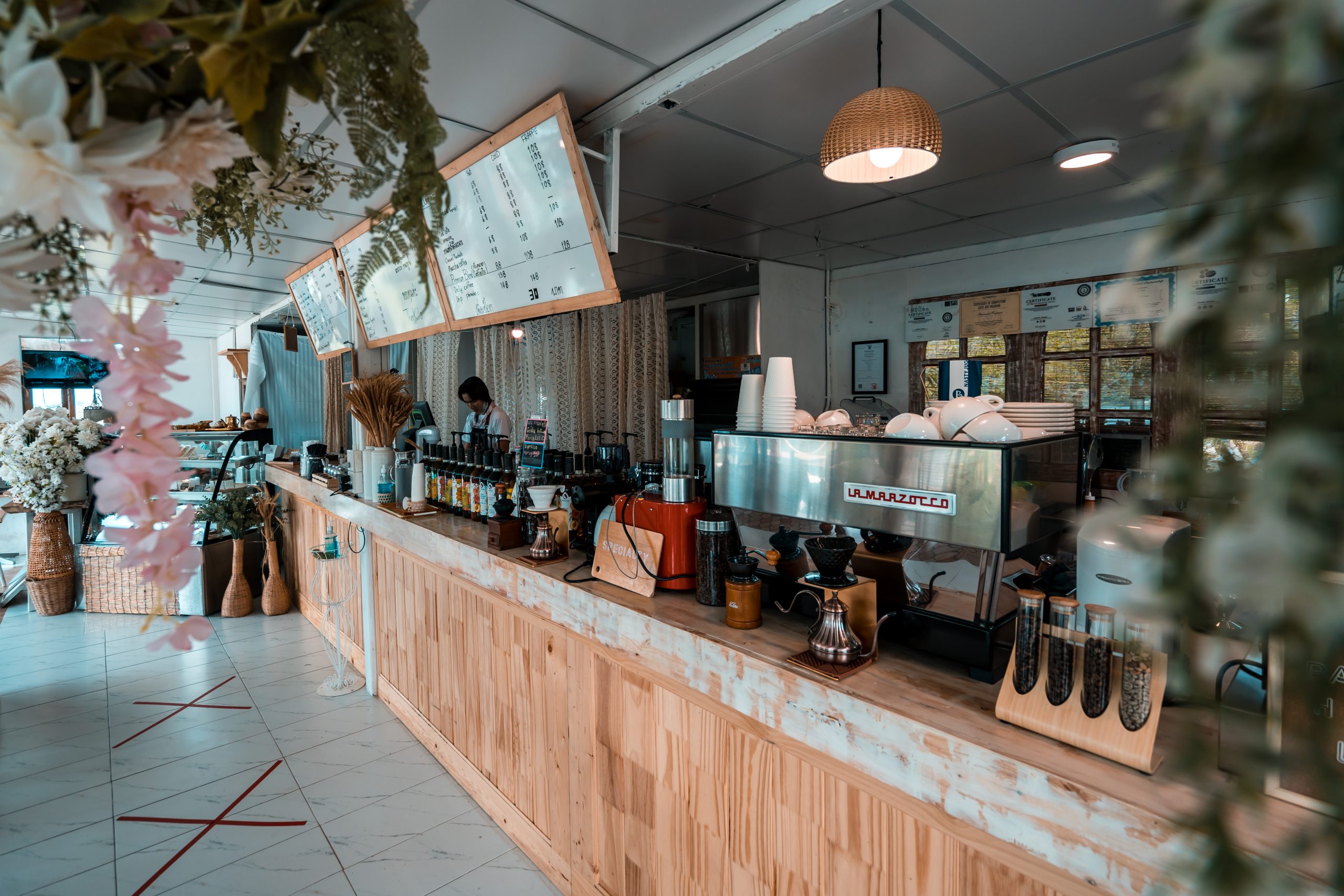 There's a wonderful selection of beverages, snacks and sweets on offer.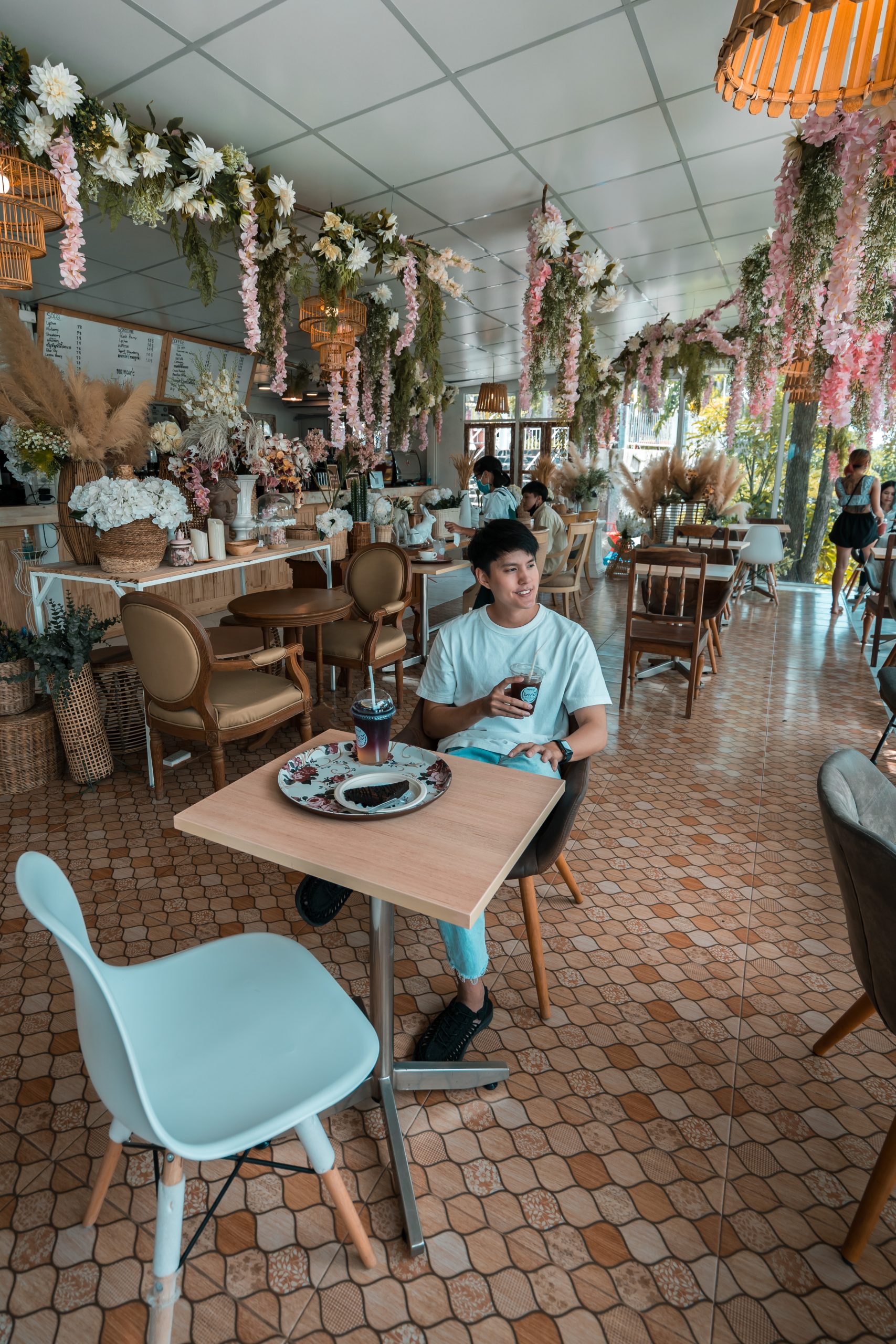 Eat comfortably inside and enjoy the chic ambience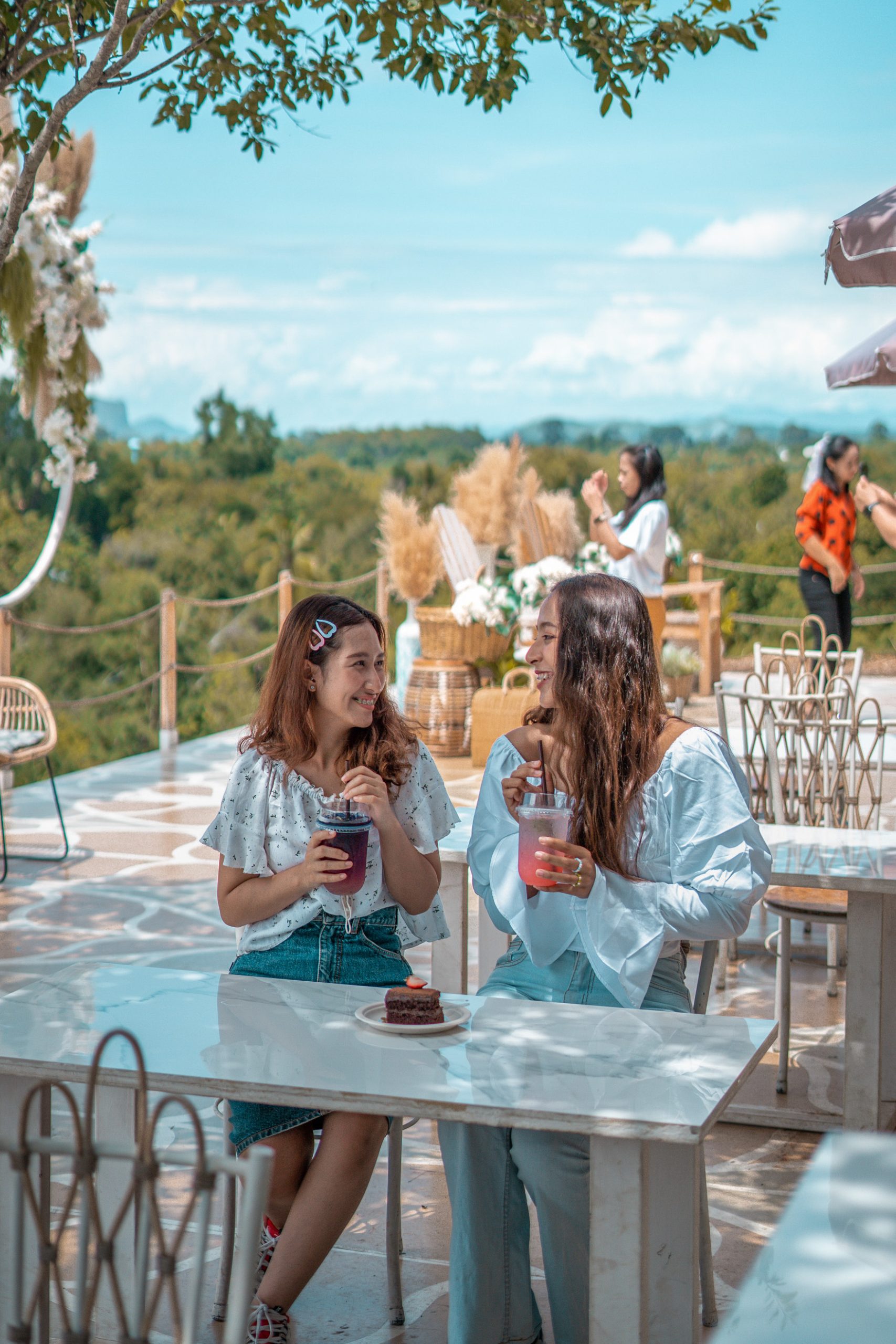 Or venture outside for an al-fresco afternoon snack.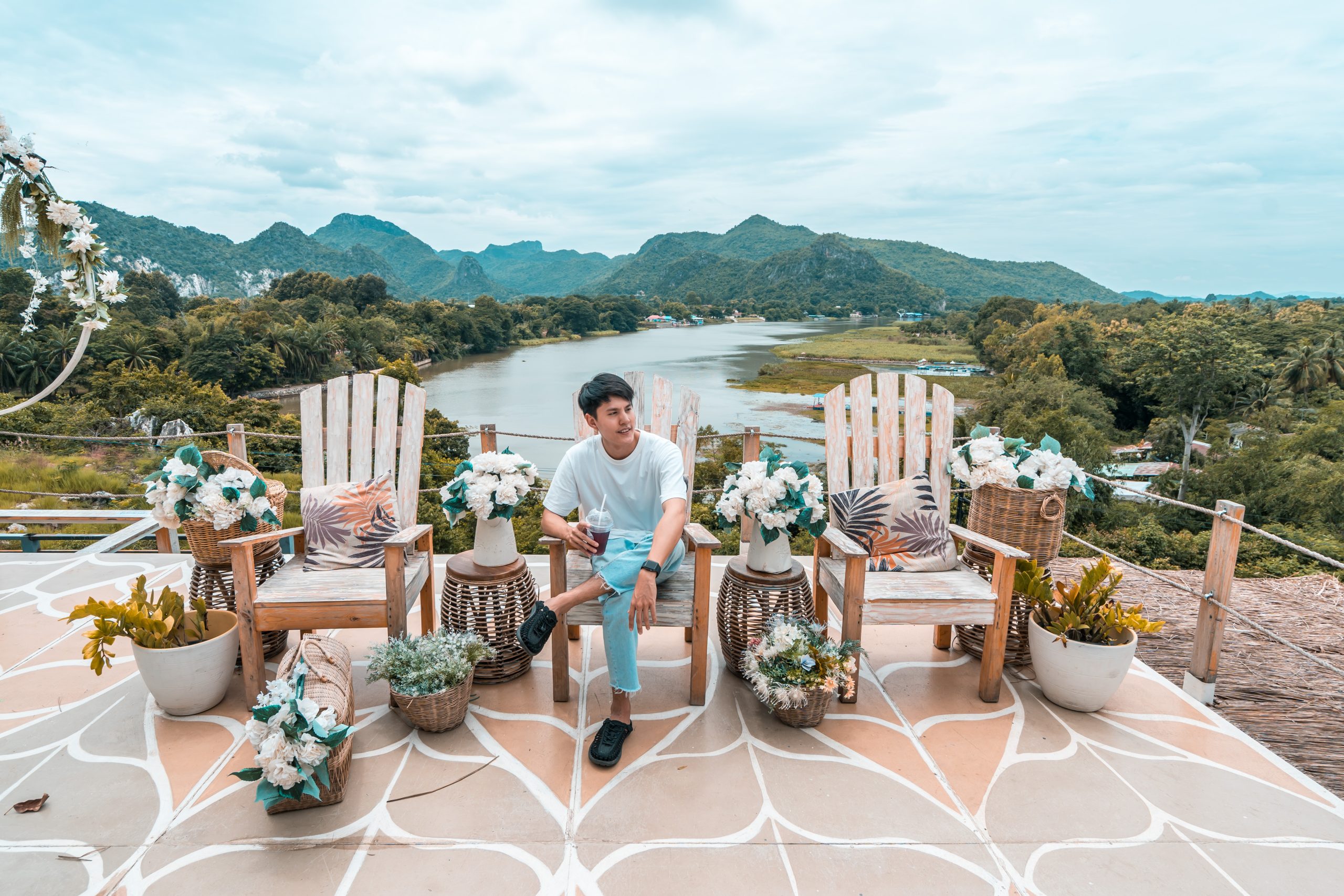 Don't miss out on the chance to get some great snaps of your trip here and the view from the terrace will definitely be of interest for those looking for some eye-catching shots.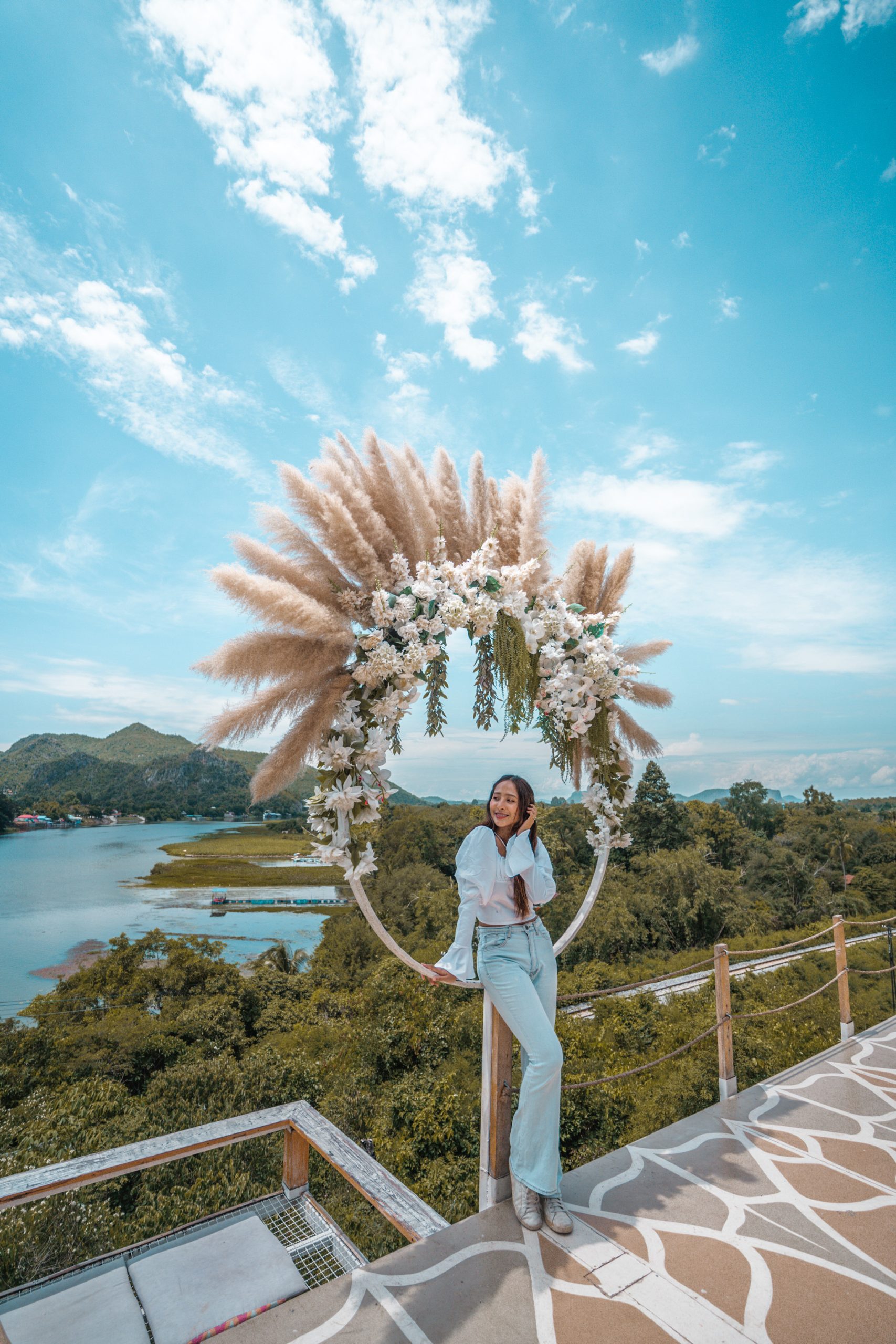 There's so many different angles that are perfect for posing, aiming and capturing.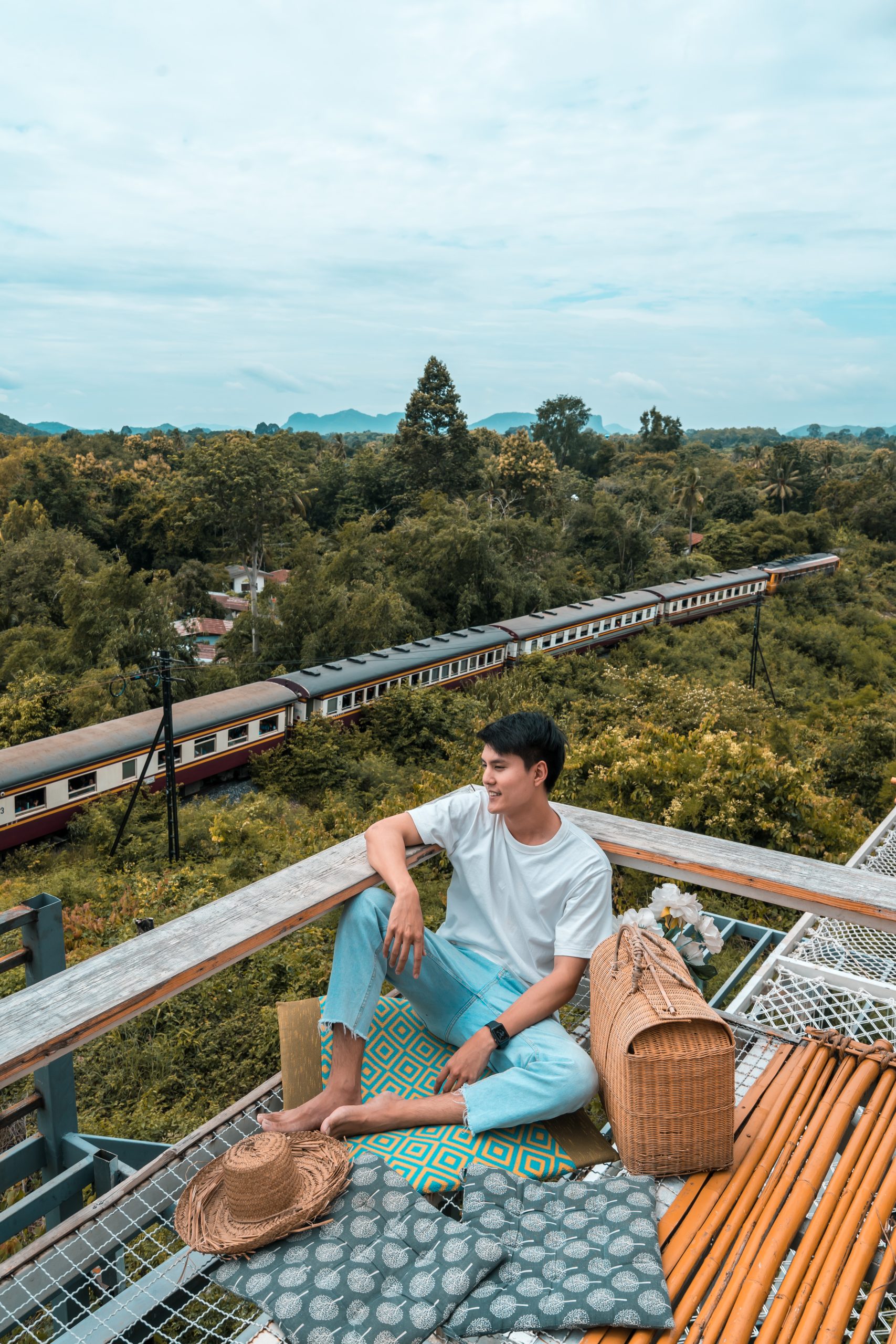 This is the most popular spot for social media loving travellers and those looking for the perfect post should be prepared to wait patiently until a train passes before snapping.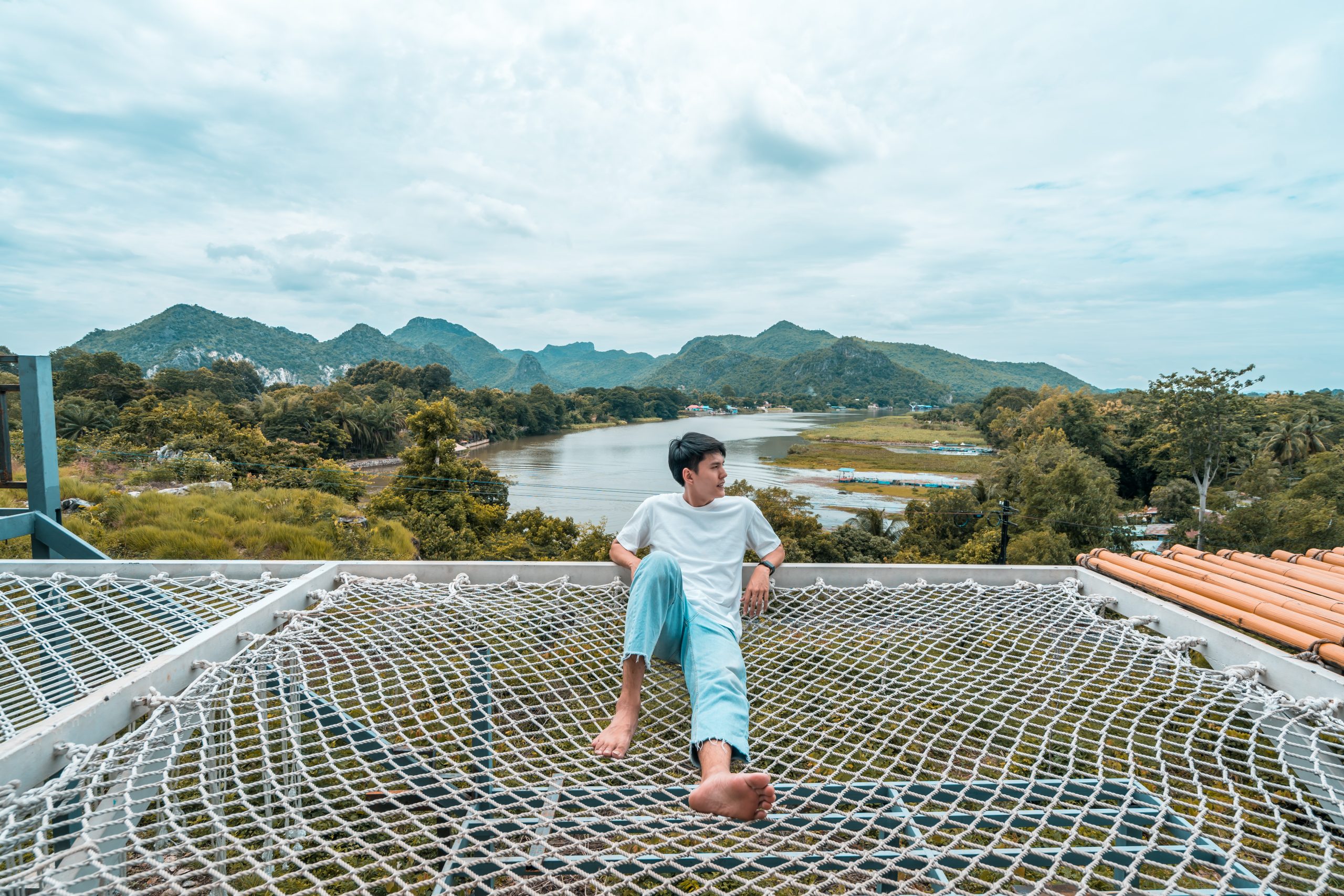 That wraps up the trip and it's been full of unique destinations, each with their own appeal but all showing the beauty of Kanchanaburi during 'Green Season'. a time of year when the countryside simply bursts into life and a great time to explore. 
If you are ready to explore and want to follow us into the green countryside or Kanchanaburi then why not follow our trail and spend a couple of days with nature.